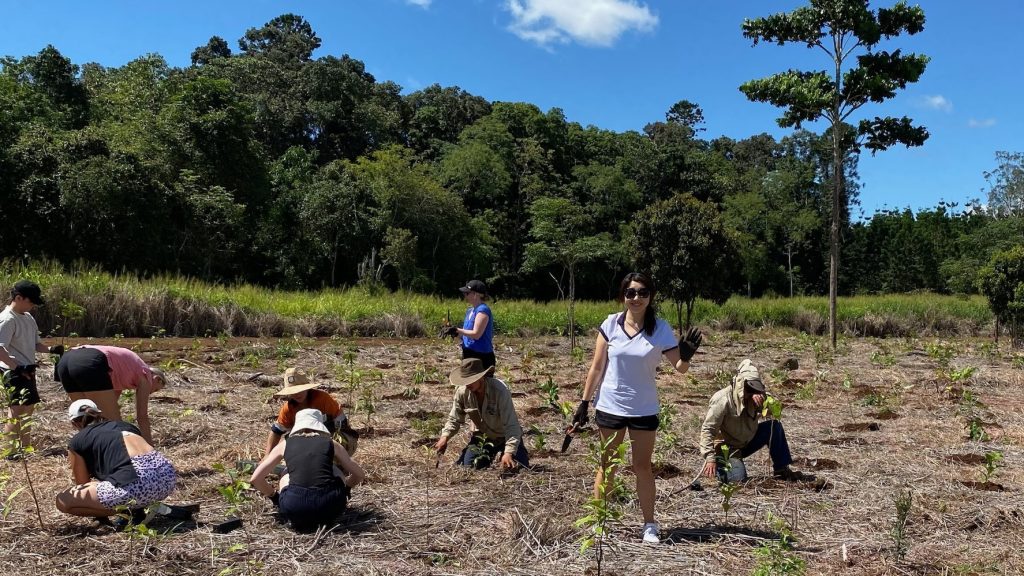 We recently led a tree planting initiative to regenerate the Mabi rainforest in Tropical North Queensland, in partnership with Terrain. The event was a huge success, with 200 volunteers coming together to plant over 1,500 trees.
The magical Mabi rainforest
With support from Tourism Tropical North Queensland (TTNQ), the goal was to restore an area of land previously cleared for forestry and agriculture, by enlisting the help of businesses and individuals. The Mabi rainforest is situated in Tropical North Queensland, Australia and is characterised by a tall canopy of trees, thick undergrowth, and rich diversity of plant and animal life. It is estimated that up to 70% of the plants and animals in the Mabi rainforest are unique to this region. The forest draws its name from the local Indigenous name for Lumholtz's Tree-kangaroo (mabi or mapi), one of the most common large mammals in this forest type. Predominantly a leaf eater, this rare species lives in the canopy of Mabi Forest and adjoining ecosystems.
Past clearing means less than 4% of the original extent of the Mabi forests native habitat remains. The region is under threat from deforestation, land clearing, and climate change, which is why initiatives like ours are so crucial for protecting this unique ecosystem.
Restoring the rainforest, one tree at a time
The tree planting initiative was held on a Saturday morning in April, with volunteers from different parts of the country coming together to take part. Volunteers were divided into groups and led by experienced guides to different parts of the rainforest where they could rolle up their sleeves and get their hands in the earth, by planting their allocated trees.

Reforest provided the trees, tools, and expertise needed to ensure that the planting was done correctly and that the trees had the best chance of survival.

Daniel Walsh, CEO of Reforest said: "This project demonstrates how corporate responsibility can go beyond carbon offsetting to create tangible positive outcomes for local ecosystems and communities. We hope that other business events will join Arinex in supporting reforestation initiatives like this one".
Memorable moments 
One of the key highlights of the event was the involvement of Arinex, a leading event management company that is committed to promoting environmental sustainability. Arinex sponsored the event, and their CEO, Nicole Walker, was present on the day to participate in the tree planting. Through this partnership, Arinex is taking concrete steps towards reducing carbon emissions and promoting green practices in the events industry.

Another highlight was the sense of community and camaraderie that was felt among the volunteers. Everyone was eager to get their hands dirty and do their part to help regenerate the Mabi rainforest. What a difference it can make to actually be on the ground, with hands in the earth, tangibly seeing and feeling the impact you can have!

The Mabi rainforest tree planting initiative was a great success. It demonstrated that by working together, we can really can make a difference.